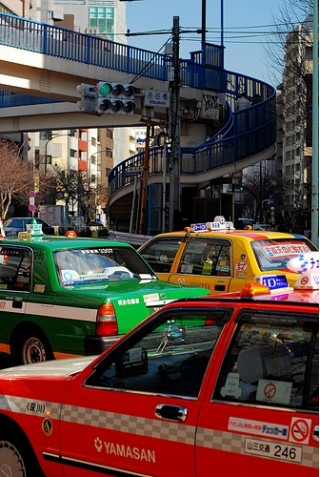 We haven't mentioned Shai Agassi and his outside-the-box startup,Better Place, in some time, but we're happy to report that the man with the battery-swapping plan has been hard at work in the interim, convincing bigwigs in Japan to give his unique system for electric vehicles a test run.
The Better Place pilot program will take place in Tokyo and will center on taxis operated by the city's largest taxi company, Nihon Kotsu. Why the focus on cabs? Because Japan has so many of them -- 60,000 in Tokyo alone -- and although they only make up about 2% of the vehicles on the roadways, they account for 20% of the CO2 generated by automobiles.
Better Place, as you might recall, employs and interesting approach to EVs, organized around battery packs that can be quickly swapped out at Better Place facilities. (Between swaps, they can be recharged like normal EVs.) Based on the press release pasted below, it appears that Tokyo's city government will fund the construction of a Better Place battery swapping station (price tag: $500,000) at a Nihon Kotsu hub in the Roppongi Hills area of town. At the moment, the program is limited to just four taxis, but if things pan out, Agassi might just get a substantial jump on the Japanese EV market, since some of the major players have been a little slow on the draw.
Fuente: Seeking Alpha